Gerold Bursian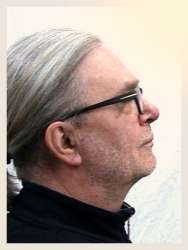 Germany (Deutschland)

www.GeroldBursian.de

category: Painting
technique: Acryl
Style: Abstract


Statement:
Arbeitsumfang |
Arbeitsbeschreibung
Work size |
Work description |
Bildobjekte auf Holz / Baumwolle, Acrylwachs, Pigmente;
Picture objects on wood / cotton, acryl wax, pigments;
Elektroakustische Klangkompositionen (picture scan);
Electroacoustic sound compositions (picture scan)Klang-Visualisierungen;
Sound visualizations;
DVD-Videos
DVD videos
---------------------------------------
Der Arbeitsprozess
Mein Arbeitsprozess bewegt sich an der undeutlichen Grenze zwischen Chaos und Ordnung. Er entwickelt sich "nichtlinear" im eigentlichen Sinn. Die Linienstrukturen sind iterative Gebilde, die zur Auflösung streben.Es gibt immer noch eine weitere Ebene "ad infinitum". Die Bildkomposition ist nach dem Kohärenzprinzip angelegt, wobei es auch mehrere Kohärenzebenen geben kann. Es entstehen Bild-Objekte klarer und malerischer Konzentration:Eine Einladung für den analytischen und meditativen Geist.
Gerold Bursian Karlsruhe
-------------------------
English:
The work process

My work process moves at the indistinct boundary between chaos and order. He develops "nonlinearly" in the real meaning. The line structures are iterative things which strive for the dissolving. There still is another level "ad infinitum". The picture composition is laid out according to the coherence principle in which there can be several coherence levels. Picture objects result for clear and picturesque concentration: An invitation for the analytical and meditative spirit.
Gerold Bursian/ D-76187 Karlsruhe/Germany

Bio / Resumee / Statement:
1946 geb. in Breslau;
1966 - 1972 Studium an der Akademie der bildenden Künste in Karlsruhe bei den Professoren Herkenrath und Meistermann;
1972 Meisterschüler in der Klasse Meistermann;
1972 Begründer der Gruppe "Kunst und Öffentlichkeit" zusammen mit Hans Rogalla;
1973 - 1977 Lehrtätigkeit an einer GHS;
1983 - 1986; Mitherausgeber der "Karlsruher Wechselblätter" (Literatur + bildende Kunst).



Auf der Suche nach der Zeit
Painting
Acryl
120 x 155 cm
Price: 8.000 Euro
more information


INTERFERENZ
Painting
Acryl
50 x 97 cm
2012
Price: 8.000 Euro
more information


LANDSCHAFT IRGENDWO
Painting
Acryl
59 x 105 cm
2012
Price: 8.000 Euro
more information


Hintergrund-Aktivität
Painting
Acryl
120 x 155 cm
2011
Price: 8.000 Euro
more information


SICHT IV
Painting
Acryl
120 x 155 cm
2011
Price: 8.000 Euro
more information


WORLD SNORING
Painting
Acryl
120 x 155 cm
2012
Price: 8.000 Euro
more information


SICHT III
Painting
Acryl
120 x 155 cm
2011
Price: 8.000 Euro
more information


SICHT II
Painting
Acryl
120 x 163 cm
2011
Price: 8.000 Euro
more information